Blackmagic Mini Converters
Make the move to Ultra HD withthe world's most advanced 6G‑SDI converters!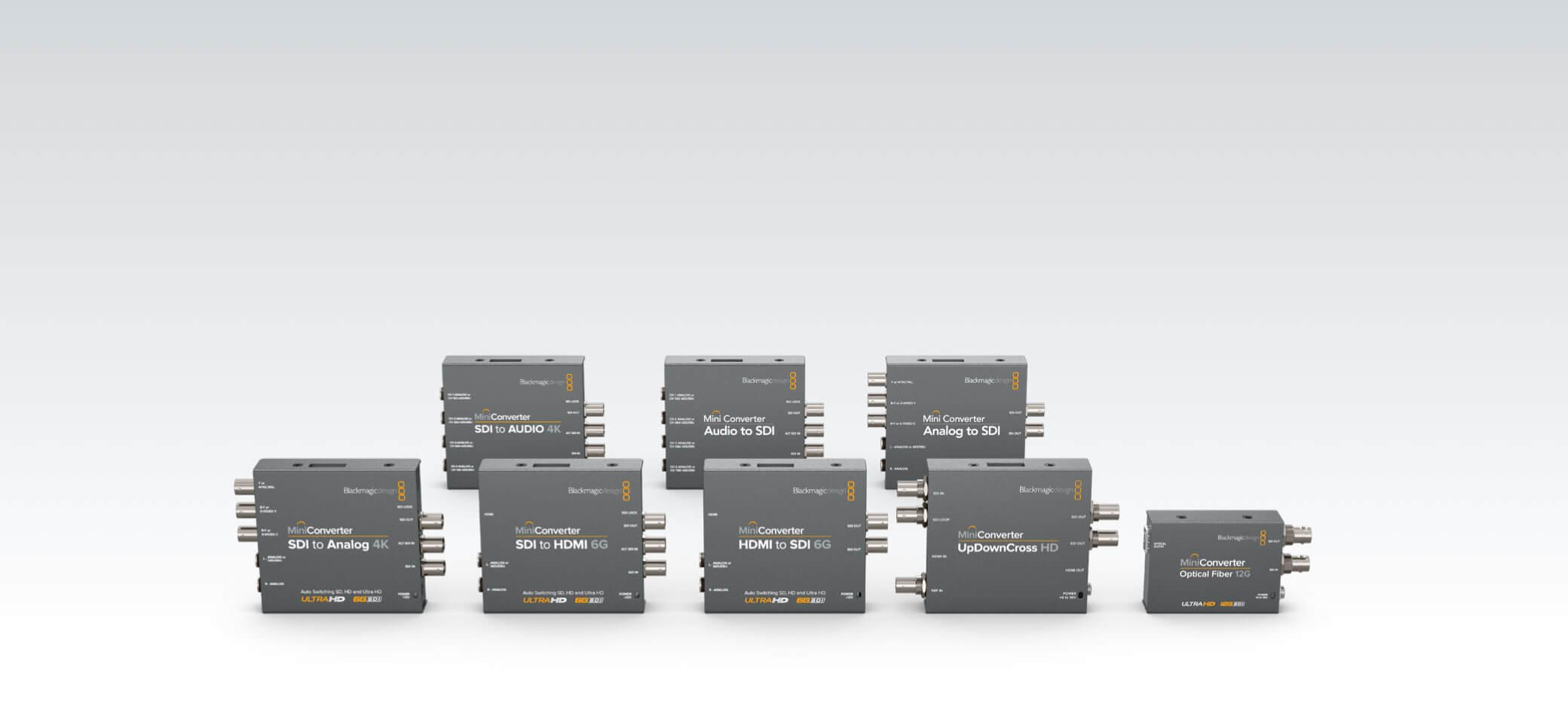 Blackmagic Mini Converters are the world's most advanced converters because they include the latest 6G-SDI technology, automatically detect the input video format and instantly change between virtually all SD, HD and Ultra HD video standards up to 2160p30! You get advanced features such as redundant SDI inputs, re‑clocked loop outputs, HDMI instant lock, 33 point LUT support, and full analog and AES/EBU audio connections so you can convert video, as well as embed or de-embed audio! Choose from a wide range of 3G and 6G-SDI models, depending on the conversion you need!
Simple, Compact and RuggedBuilt for any environment!
Blackmagic Mini Converters are designed to be used anywhere! You can put them in equipment racks in the studio, on news trucks, or use them outside for live sports and other events. Mini Converters have a straightforward, compact design that makes them easy to use and super reliable for 24/7 operation. The built in connections are easy to access and use standard cables, plus all models feature built in mini switches to quickly change settings. There's even a diagram with switch settings printed on the back so you never have to look for the manual!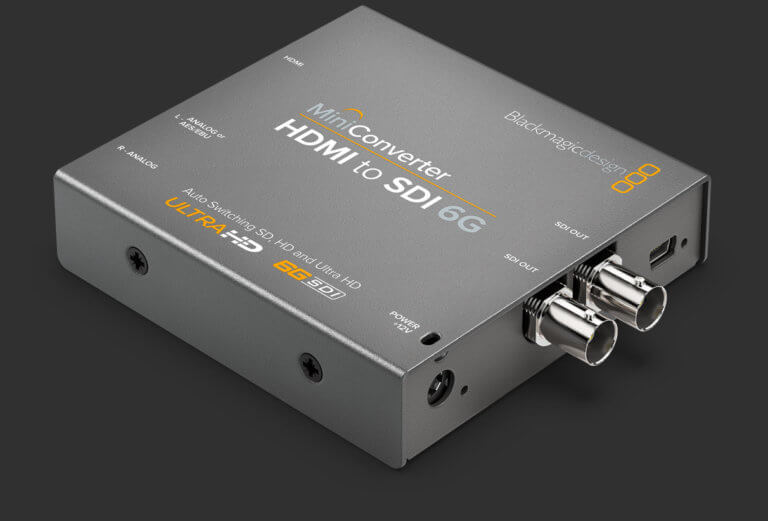 Changing settings on Mini Converters is as easy as using the built in function switches.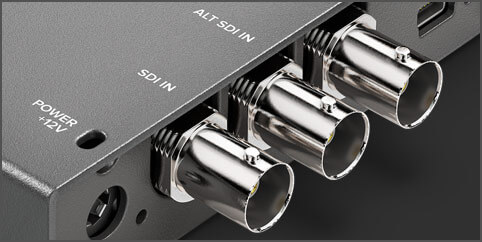 All SDI Mini Converters feature a redundant SDI input for running a second SDI cable as back up.
Easy Control
Simple to set up and update
Changing settings on Mini Converter's is as easy as using the built in function switches! This is great when you need to change settings quickly as there are no complicated menus to navigate. There's even a printed switch diagram on each converter, so you never have to find the manual! You can also control settings using the included Converter Utility software by connecting the converter to any OS X or Windows computer! All models can be updated to the latest software via USB by simply downloading upgrades directly from the Blackmagic Design website and connecting the Mini Converter to your Mac or Windows computer! This means Mini Converters can be updated to include new video standards and technologies when they become available.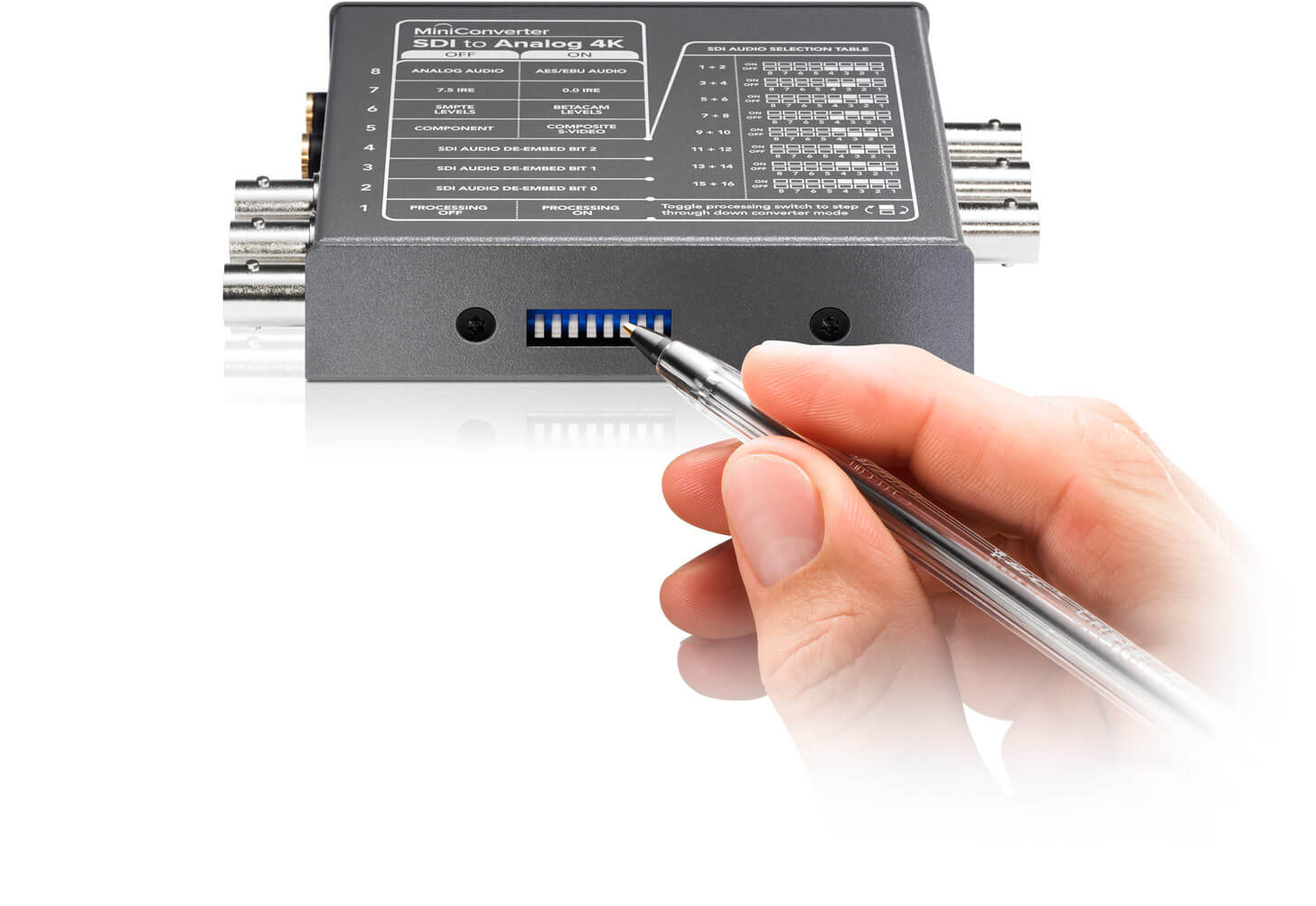 Multiple Audio ConnectionsProcess your audio separately or embedded

In professional broadcast, post and live production workflows, the audio is just as important as the video. Blackmagic Mini Converters maintain the cleanest possible audio signal and always keep it in sync with your video! Mini Converters support embedded SDI and HDMI audio, and there are several models that let you separately embed or de-embed it to balanced analog or AES/EBU digital connections. Mini Converters support 24 bit analog and AES/EBU audio, and feature standard 1/4 inch audio jacks so you don't need custom cables!